We care about our ingredients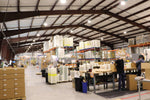 We Love what we do
The Whole(sale) Story!
Botanie partners with some of the best skin-care brands in the world to supply their soap. We're known for setting the industry standard for high quality commercial bar and liquid soap.
Your customers care about quality. Quality is all we do.
Our commitment to natural ingredients, exceptional quality, and accessible minimums, makes partnering with us a winning solution for your brand.
Our History
Humble Beginnings
Fire up the scanner because we're loading some original photos!
Starting as a home-based business, Botanie became a private-label manufacturer when brands asked us to make their soap. In an industry full of manufacturers with high minimums and low ingredient standards (fragrance oils? corn and soy filler oils? unsustainable palm oil? Never!) Botanie's commitment to natural ingredients and accessible minimums quickly marked us as the right partner for growing brands committed to offering the best.
Though our production capacity has grown (exponentially), our commitment to natural ingredients remains as ironclad as ever.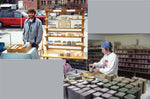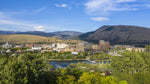 A River Runs Through It
Missoula, Montana
Botanie is based just outside Missoula, Montana, at the confluence of the beautiful Clark Fork and Blackfoot rivers. As the second largest city in the state, fun and funky Missoula is the perfect location for our growing manufacturing business. As our production capacity continues to expand, we have plenty of room under the big sky of Montana to grow right along with it.
Commitment to Natural
Truly natural is what we do: We built Botanie on a commitment to using natural ingredients only, and we still keep this commitment. We use only certified organic base oils in our soaps. We scent with essential oils or other plant extracts only. We don't even allow fragrance oils or products containing fragrances to enter our facility, and this includes so-called "natural fragrances." Our colorants are herbs, herbal extracts, clays, and mineral compounds. Our preservatives are plant extracts. All our ingredients have EWG ratings in the green zone.
What this means for you: When you work with us, you don't have to wonder about whether the products or their raw ingredients qualify as natural. We've taken care of that for you.
Down to Basics
What We Believe
When you care about ingredients, customers feel the difference.
Natural products are the best solutions for people and the planet.
Working with a custom manufacturer doesn't have to be a headache. We take pride in our partnerships and our products.
We love your brand as much as you do!